"We started the ride as participants and came home as friends"
Why is DALEXS so special to ride with?
We ride with small groups in an open and relaxed atmosphere where you feel welcome and part of the group.
Graveltours in Sweden for Adventureriders
We are working on a fully translated website. Sorry for the inconvenience at the moment.
DALEXS does not guide motorcycle tours, we guide the person who ride the bike!
A ride with DALEXS is to be part of a group in a relaxed atmosphere. We ride in remote areas for the adventure and the experience to be in the beautiful surroundings in the middle of Sweden while doing what we like the most, to ride our bikes on dirt roads!
That is the essence of DALEXS!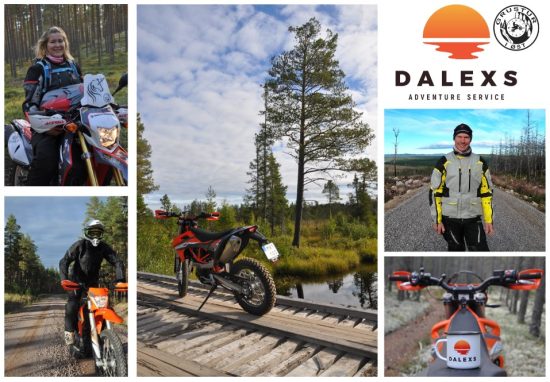 Our homebase is located in the northern part of Dalarna region where you can ride for hours and hours on dirtroads. We spend a lot of time in Fågelsjö that is our favourite place to be! In Fågelsjö you find a hostel and a restaurant in the village where only 16 people live with the deep forest and several lakes surrounding.
What´s beyond the TET in Sweden?
The possibilities is endless when it comes to riding on remote roads in Sweden but the tricky part is to find it and to create a good route. 
We offer private guiding and assistance with planning a ride of you own designed on your level of adventure. 
Based in nothern Dalarna the large forrest areas is our backyard where we find the best roads and places to visit and what we like the most is to share it! 
You are welcome to us with your ideas and dreams of a ride in Sweden! Just send a mail ti info@dalexs.se or use the form here:
The activities is not translated, sorry! Please send a mail or call if interested in joining a ride or visiting us. If interested in private guidning or local information we are happy to assist. 
Perfect start of the season with a weekend ride in southern parts of Dalarna! 
Level: Red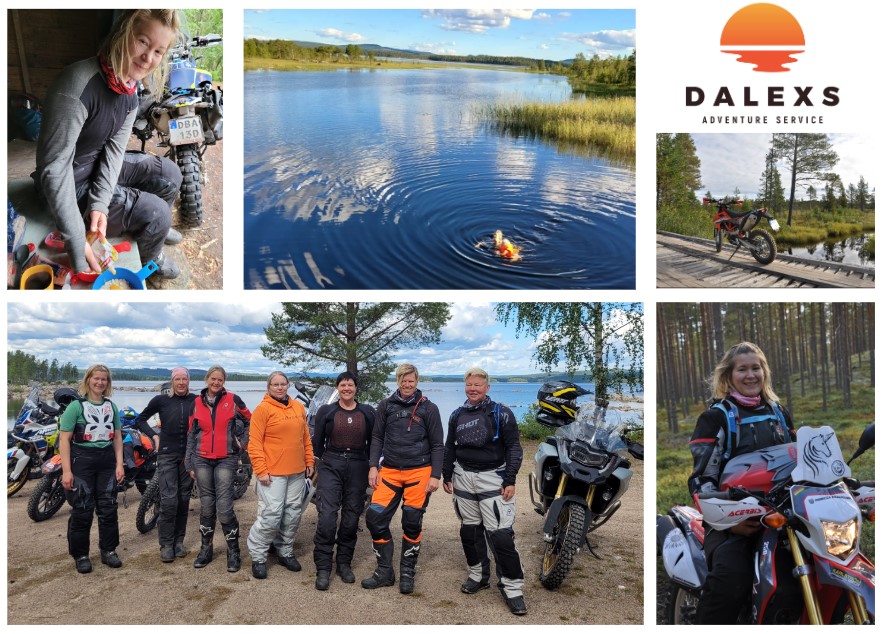 A weekend with riding and sociliazing only open for females!
Level: Green
A unique weekend trip where two different organizers meet up in Fågelsjö and the entire hostel is booked. We start in Orsa or on site in Fågelsjö.
Level: Blue/Red
During the World Adventure Week we keep our house open to assist rider in the area with information and routes to ride. 
24h enduro team competition. We aim to register one team with only female riders. . 
Level: Enduro riders with licence to compete. 
We welcome both begginers and experienced adventure riders! We have our base in Fågelsjö and ride three different roadbooks during the weekend. This is for the adventure rider and not for the rally rider. 
Level: Red
Weekend ride when the nature is at it´s best!
Level: Blue
Lets make the most of the year and ride in autumn colors!
Level: Red
A weekend ride for those with thick skin.
Level: Red/Black
For more information please send us a mail or a message using the form and we will come back to you with more information.
Email:  info@dalexs.se
Phone & Whatsapp:  (+46) 0725588362
1000 m.ö.h
Utsikt över Härjedalens vidder på Grusweekend 2021
Tillsammans!
Upplevelser, fina minnen och nya vänner!
Vi möter dig på din nivå
Ett äventyr är olika för oss alla. Du kan utvecklas och känna dig trygg hos oss
Anders Kulin - DALEXS huvudguide
We do not guide tours – We guide the person who ride the bike!
Private guiding for single persons or groups.
Registrerat namn: Dalexs 
Email: Info@dalexs.se
Telefon:  (+46) 0725588362
Adress: Nybyggarvägen 3, 792 97 Mora, Sverige